Back in August 2014, uTest launched a brand-new community-wide recognition initiative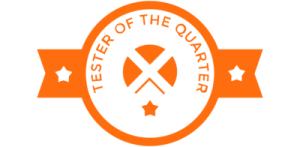 called Tester of the Quarter". The goal of this quarterly program is to recognize and award the rock stars of our global community. The program is based on nominations and votes from members of the community.
Here are the categories:
Outstanding Forums Contributors
Outstanding Bloggers
Outstanding uTest University Instructors
Outstanding Tool Reviewers
Outstanding Project Managers of the Quarter
Outstanding Test Team Leads, Tester's Choice
Outstanding Testers, Test Team Leads' Choice
Outstanding Up-and-Comers, Test Team Leads' Choice
Here's the announcement for the winners for 2014 Q4:

Yours truly won the award for:
In addition to the quarterly awards, uTest also created a Hall of Fame to honor the top testers in our community…past and present.